Ape Escape Originape Soundtracks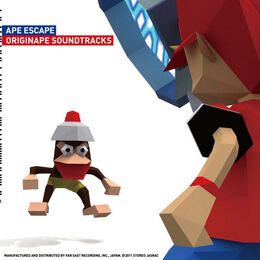 Information
| | |
| --- | --- |
| Artist | |
| Release Date | November 18, 2011 |
| Label | FAR EAST RECORDING |
| Total Length | 2:17:10 |
Ape Escape: Originape Soundtracks is an OST released in 2011. It features more than forty remixed tracks based on the first Ape Escape.
Crabby Beach
Dark Ruins
Cryptic Relics
Stadium Attack
Crumbling Castle
Frosty Retreat (inside)
Frosty Retreat (outside)
Snowy Mammoth
Specter's Castle
Specter's Factory (outside)
Coaster
Haunted House
Thick Jungle (woods)
Thick Jungle (river)
Time Station
Molten Lava
Results
Molten Lava (t-rex)
Coral Cave
Specter Circus
Hot Springs
Hot Springs (maze)
Laboratory
Monkey Madness
Wabi Sabi Wall
Staff Roll (normal)
Opening
Sushi Temple
Peak Point Matrix
TV Tower
City Park
Stage Select
Specter Boxing
Primordial Ooze
Western Land
Fossil Field
Staff Roll
Dexter's Island
Specter's Factory (inside)
Specter's Theme
Ski kidz Racing
Movie from opening
Movie from shifting time

Ad blocker interference detected!
Wikia is a free-to-use site that makes money from advertising. We have a modified experience for viewers using ad blockers

Wikia is not accessible if you've made further modifications. Remove the custom ad blocker rule(s) and the page will load as expected.