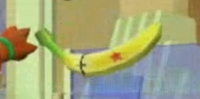 The Bananarang is one of three Gadgets introduced in Ape Escape 2, and reappears in Ape Escape 3.
Appearance
Edit
The Bananarang is a banana shaped boomerang. It has an orange star (the same one on Jimmy's vest) and a metal wrap that can open its banana flavor scent. Its handle is the stem.
The Bananarang has the ability lures certain types of monkeys towards the scent it creates. Monkeys with low Stomach Fullness statistics will rush towards the Bananarang, while monkeys with high Stomach Fullness statistics will not be as interested. By pulling the right analog stick back, you can aim it. Let go of the Right Analog Stick to shoot the Bananarang. Rotating the Right Analog Stick in a circle will activate its banana flavor scent. The Bananarang can also pick up items.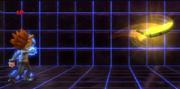 PlayStation All-Stars Battle Royale
Edit
The Banannarang appears as Spike's Side Triangle move. By pressing forward and Triangle, Spike will throw the Bananarang. Its scent does not appear when thrown, making it a simple boomerang.
Its name and appearance is a pun of a banana and a boomerang.
This is the only Gadget from Ape Escape 2 to appear in Spike's Arsenal.