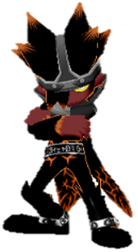 Dark Specter is
Specter
himself when powered by the disk.
Appearance
Edit
He is like an inverse of himself: his fur is black instead of white, and his pants are grey. On the linings of Specter's spiky hair it is red instead of blue. And his skin color is replaced by red instead of his original skin.
He is a boss in Gotcha Mecha Stadium: Saru Battle and a playable character in Saru Getchu: Million Monkeys, however it's only in versus and tournament mode and you need a secret code to unlock him.
In Gotcha Mecha Stadium, he has his traditional game appearance of the cape and shorts, while in Saru Getchu: Million Monkeys, he has a more formal appearance with a grey helmet, scarf, and belt, and a black cape and black pants, a version of his anime style costume, and he look older and more mature.