Haruka (Helga)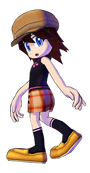 Information
Name(s)
Haruka
ハルカ
Gender
Female
Appears in
Member of
Voice actor(s)

Haruka (ハルカ, Helga in the American games) is the third main female, who first appears in Ape Escape: Pumped & Primed and is the heroine of the series. Her father is a friend of the Professor. She is the Hi-Tech Tournament last Champion and also has a dark past. She is also a tech genius and Robot Battle Champion. In the anime, she has been seen wearing her Ape Escape: Million Monkeys attire and starts to have a crush on Kakeru in Episode 6 on Season 2. She is voiced by Sandy Fox (uncredited) in the American version of Ape Escape: Pumped & Primed. Helga is a nice person, kind and helpful, but sometimes it'll be hard if she is angry. She is the fifth member of Team Spike and has a crush on Spike.
Personality
Edit
Abilities
Edit
Appearance
Edit
Million Monkeys
Edit
Hakura is first seen as one of peoples see the News along with citzens


Ad blocker interference detected!
Wikia is a free-to-use site that makes money from advertising. We have a modified experience for viewers using ad blockers

Wikia is not accessible if you've made further modifications. Remove the custom ad blocker rule(s) and the page will load as expected.