Haruka (Helga)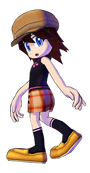 Information
Name(s)
Haruka
ハルカ
Gender
Female
Appears in
Member of
Voice actor(s)

Haruka (ハルカ, Helga in the American games) first appeared in Ape Escape: Pumped & Primed and is the heroine of the series. Her father is a friend of the Professor. She is the Hi-Tech Tournament last Champion and she has a dark past. She is also a mech genius and Robot Battle Champion. In the anime, she was seen wearing her Ape Escape: Million Monkeys attire and starts to have a crush on Kakeru in Episode 6 on Season 2. She is voiced by Sandy Fox (uncredited) in the American version of Ape Escape: Pumped & Primed. Helga is a nice person, kind and helpful, but sometimes it'll be hard if she is angry. She is the Fifth member of Team Spike.


Ad blocker interference detected!
Wikia is a free-to-use site that makes money from advertising. We have a modified experience for viewers using ad blockers

Wikia is not accessible if you've made further modifications. Remove the custom ad blocker rule(s) and the page will load as expected.