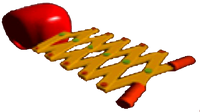 A powerful punch to bash through walls, introduced in Ape Escape. You can only get the Magic Punch once you have successfully completed the game.
Description
Edit
The Magic Punch is arguably the most powerful gadget in your arsenal. It has great power, as well as range and speed. The item resembles a spring loaded, red boxing glove.
This item appears in Ape Escape (as well as On the Loose) and Ape Escape 2 once completing the game. It's primary use is to break specific objects, but can also second as a weapon in place of the stun club. This item does not appear in Ape Escape 3, despite 100% completion.
Ad blocker interference detected!
Wikia is a free-to-use site that makes money from advertising. We have a modified experience for viewers using ad blockers

Wikia is not accessible if you've made further modifications. Remove the custom ad blocker rule(s) and the page will load as expected.