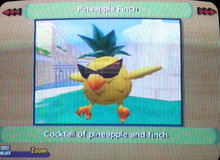 Pineapple Finches are enemies that appear in Ape Escape 2. They are introduced in the Port Calm level and appear in a few levels after.
They attack by dive bombing down to hit Jimmy with their talons
Appearance
Edit
The Pineapple Finch is a pineapple bird with yellow wings and an orange beak. It wears sunglasses and has two orange talons
"Cocktail of pineapple and finch
This enemy first appears in the Port Calm level.
It resembles a pineapple
Ad blocker interference detected!
Wikia is a free-to-use site that makes money from advertising. We have a modified experience for viewers using ad blockers

Wikia is not accessible if you've made further modifications. Remove the custom ad blocker rule(s) and the page will load as expected.