Pipo Snake (or ピポスネーク) is a playable monkey, who is featured in the Ape Escape 3 minigame: Mesal Gear Solid. This particular monkey has every skill from Solid Snake. He even sports an uncanny similarity, in terms of appearance. Unlike Snake, this monkey can not kill anyone and must instead stun other monkeys.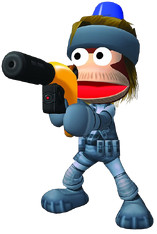 Background
Edit
Peter Lurie also voices Solid Snake in the English versions instead of David Hayter.
Ad blocker interference detected!
Wikia is a free-to-use site that makes money from advertising. We have a modified experience for viewers using ad blockers

Wikia is not accessible if you've made further modifications. Remove the custom ad blocker rule(s) and the page will load as expected.