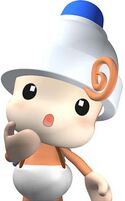 Pipotchi is a baby monkey accompanying Jimmy throughout his journey in Ape Escape 2 since he is Jimmy's pet friend.
There is no information about Pipotchi's backstory. All that is known is at some point Pipotchi was given a fake Peak Point helmet, and given to Jimmy.
When Jimmy left Pipotchi in the care of Natalie and the Professor (in order to continue his adventure without endangering him), Pipotchi soon fled the safety and comfort of the lab to return to being with Jimmy.