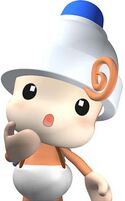 Pipotchi (ピポチ) is a baby monkey accompanying Jimmy throughout his journey in Ape Escape 2. He is Jimmy's pet friend.
Not much is known about Pipotchi's backstory. All that is known is at some point Pipotchi was given a fake Pipo Helmet, and given to Jimmy.
When Jimmy left Pipotchi in the care of Natalie and the Professor (in order to continue his adventure without endangering him), Pipotchi soon fled the safety and comfort of the lab to return to being with Jimmy.
Pipotchi can sometimes catch Jimmy when he's about to fall.
Pipotchi will sometimes gives an extra cookie to Jimmy when he loses his last cookie, giving him an extra chance to take a few more hits.
Ape Escape 2 is Pipotchi's only appearance, as he was not mentioned in Ape Escape 3 or any future titles.