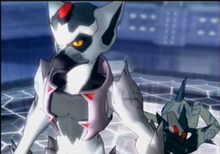 The main villain of Ape Escape ~On Air~ Anime Season 1, He had wanted Specter's DNA for creating Biological weapons (which may explain why mutants appear, In Saru! Get You! Million Monkeys). He is the leader of the new species of Pipotrons created by a mad scientist who's greed over Haruka's father's disc. Pipotron J's species of primate is the Ring-tailed lemur. He also goes by the name Axel Dark-Key. Spoiler Alert: He gets revenge on Nazo, the mad scientist who created him, in Saru Getchu Million Monkeys, for killing his brothers. He gives him a taste of his own medicine by electro-shocking him. Whether he survived the attack is a mystery.
Ad blocker interference detected!
Wikia is a free-to-use site that makes money from advertising. We have a modified experience for viewers using ad blockers

Wikia is not accessible if you've made further modifications. Remove the custom ad blocker rule(s) and the page will load as expected.