Specter Boxing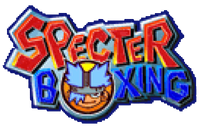 Information
| | |
| --- | --- |
| Available in: | |
| Unlocked with: | |
Specter Boxing Is one of the minigames that Spike can unlock after finding 20 Specter Coins.
Description
Edit
Specter Boxing is a tournament where apes are used as boxers. The apes arms work by flicking the analogue sticks, the left analogue stick moves the left arm, and vice versa.
Miningame Changes
Edit
In Ape Escape: On the Loose, Specter Boxing is slightly different from the original version. This is most likely because of the lack of a second analogue stick.
This game technically features the very first different colored pipo monkey/ape. An odd gray-purple furred one appears on the games main screen.


Ad blocker interference detected!
Wikia is a free-to-use site that makes money from advertising. We have a modified experience for viewers using ad blockers

Wikia is not accessible if you've made further modifications. Remove the custom ad blocker rule(s) and the page will load as expected.