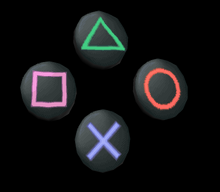 The Time Station is the main place available in Ape Escape and Ape Escape: On the Loose, where Spike can easily access to any stage. It's comprised of a hub area that contains access to the stage selection, a training room and minigame room.
Description
Edit
The Time Station is where the whole story begins. The last invention from the Professor was finished, but he and Natalie were captured by Specter and his monkey army. The Time Station itself is divided into several areas:
Warp room: the main room of the Time Station.
Stage Select area : when Spike press the round switch, a select screen appears, where he can choose a level.
Load/ Save data area: The area where the player can save their game.
Minigames Room: A room where Spike can play 3 (or 4 in Ape Escape: On the Loose) minigames from a giant arcade machine. He needs to jump on a green button in order to launch a minigame.
Training area: The area where the player can replay gadget tutorials.
Beta version
Edit
In the Beta version (or the demo released in the Pizza Hut disc), the stage selection has its own room, the warp room. The reason why the development team removed this dark room is currently unknown.
Ape Escape Beta (Pizza Hut Demo Disc)
Edit
Ape Escape
Edit
Ape Escape: On the Loose
Edit